Downtown Whitewater's Parade of Lights Powered by Generac
Join our parade by filling out an entry form located here.
Find details on the event located here.
Parade lineup is on 4th street as highlighted in blue. The parade route is in purple from intersection of Main and 4th east on Main to Whitewater Street and ending at the Cravath Lakefront Parking Lot.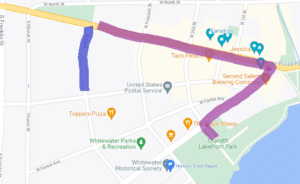 Questions? Send us an email: director@downtownwhitewater.com
Whitewater Area 4th of July Festival
Downtown Whitewater, Inc in collaboration with the Whitewater Area 4th of July Committee plans and hosts an annual community celebration. 
Find additional details for this event at whitewater4th.com. Want to join as a volunteer for this event? Email us at whitewater4th@gmail.com to get connected.
The East Gateway Sculptures, titled Ascent and Bloom by Milwaukee artist Richard Taylor, are dedicated by Fort Community Credit Union to its members and the Whitewater community.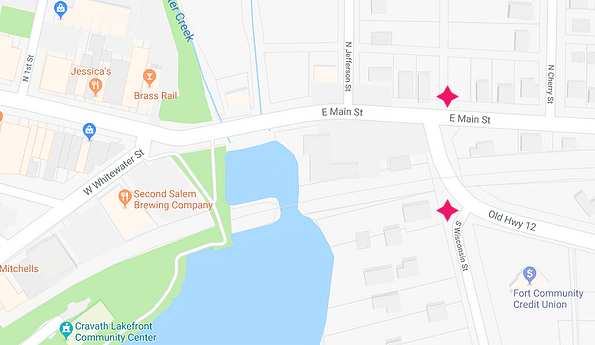 Inspiration:
​Each sculpture draws on the past, present, and future of the Whitewater community. While drivers may remark the similarity to trees and appreciate the way they blend into the city's landscaping, walkers and bikers are able to take in each panel, or "branch". Images of items from the Esterly Reaper factory, agricultural plowing patterns, and native birds are among images featured. Artist Richard Taylor also received assistance from the Whitewater Historical Society while researching the area. Viewers are encouraged to view the pieces and plan a visit to the Depot Museum to see the featured historical artifacts and learn more about Whitewater's colorful past. A link to the Whitewater Historical Society website can be found here.
Taylor said of his process, "My approach to the Gateway Sculptures was first to use abstract tree compositions. Rusted steel seemed appropriate for the material as it is very durable, has an organic look to it, and requires no maintenance. I tried to unify these symbols [of Whitewater's history and spirit] not only by their placement near one another, but by a subtle theme of arcs flowing through the artwork, like water flowing in the river. The pieces are topped by two iconic Whitewater items, the bell in front of City Hall and the stars from the flag in the Historical Society. Whitewater has a rich history, and it was fun and rewarding paying tribute to it in these sculptures."
Please click here to see illustrations of the pieces' panels. You will note slight changes between the renderings here and the finished product. This is the result of the artistic process and working with community input.
Photos with Artist Richard Taylor in his Studio
Sculpture Installation Photos
Landscaping Photos with UW-Whitewater Learning Communities
"Whitewater Is" Word Cloud
The Whitewater Marketing Alliance, a collaborative group whose goal is promote Whitewater, prepared a survey to begin to find out how residents of Whitewater feel about their community. The survey asked for one-word answers to the question "Whitewater is…."
The results of the survey, which received nearly 150 responses, can be seen in this graphic, commonly called a word cloud. Words that were used fewer than five times were not included in the graphic. Top responses include UW-Whitewater, community, home, small, quaint and friendly.
This sign can be downloaded, printed and displayed as a way to show support for Whitewater.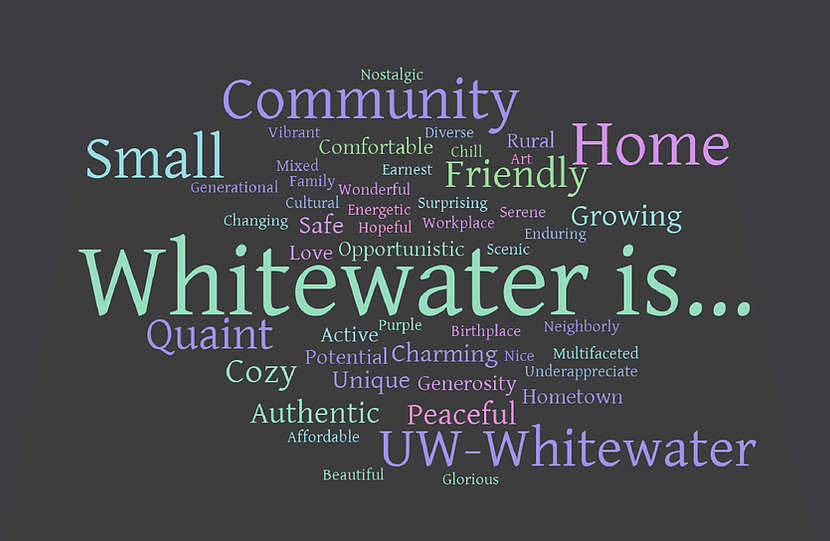 The Whitewater Marketing Council includes representatives from the City of Whitewater, Downtown Whitewater, the Whitewater Chamber of Commerce, the Whitewater Unified School District, UW-Whitewater, and the Greater Whitewater Committee.
At Downtown Whitewater, we have tons of opportunities to volunteer! Email director@downtownwhitewater.com or call (262) 473-2200 for more information.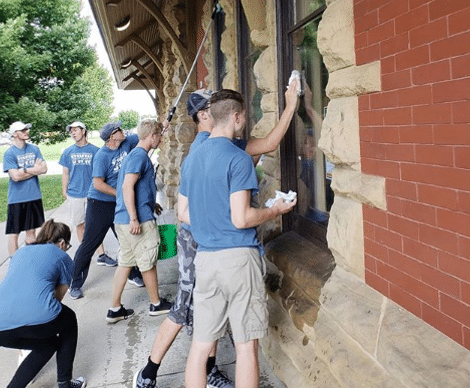 ​Market
Every Tuesday
Market Maker 2-3:30pm
It truly takes a village to run the Whitewater City Market every week! Help us move picnic tables, set out tables and chairs, place signs, set up tents and more.
Clean-Up Champion 6-8pm
There's still a lot to do after the Market fun ends every week! Assist with clean up and tear down of market materials. (We start early as daylight shortens toward the end of market season!)
​Parade of Lights
Date: TBD 2022
Set-Up Elf 2-4pm
Help us get the town parade-ready for Santa! Assist with setting up children's activities, the winter market, and parade prep.
Santa's Helper 4-6pm
Santa needs help supervising his elves as they make crafts and play games before the parade begins! You will be stationed at one of the businesses in Downtown Whitewater and responsible for supervising children's activities.
Parade Security 6-6:45pm
Get a front row seat for the parade when you volunteer as a parade security guard! You will be responsible for manning the barricades that block the parade route from the rest of the street. Hot chocolate and hand warmers will be provided.
Clean-Up Elf 7-8pm
Help us clean up after the parade, winter market, and children's activities.
Downtown Cleanup
Every Friday
Mother Nature Warrior Call or email to set up a time.
Help us keep Downtown Whitewater clean! You will be responsible for caring for the community via cleanups in the downtown area, light landscaping prairie maintenance and occasionally assisting with light office work.
USDA Rural Business Development Grant
In 2019 in collaboration with UW-Madison, Division of Extension - Community Development
Institute, the City of Whitewater was awarded a USDA Rural Business Development Grant that consisted of small business expansion and retention visits across a wide variety of sectors. 
A summary of the work for this grant can be found here 
USDA Rural Business Development Grant - Community Branding
Currently underway, on the heels of a first USDA Rural Business Development Grant in collaboration with the Whitewater Marketing Alliance and University of Wisconsin Madison, Division of Extension the City of Whitewater was awarded a second USDA Rural Business Development Grant for the purpose of creating a Community Branding Guide.